Description
Nice French pirouett table lamp, Art Deco
The Pirouett lamp was designed by Jean Chavanis in France in 1929 and was further developed and produced until the 1960s. It is known as a portable articulated luminaire, the reflector of which often has panes of glass.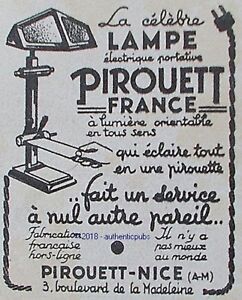 After the complete dismantling, the elements of the lamp were cleaned, maintained and rebuilt.
The lamp is in a used condition and shows age-appropriate use, storage and signs of age, including slight dents.
The two-core electrical system was renewed and overhauled. The lamp has its original Baïonnette socket.
The lamp is operated by means of an intermediate switch on the line. The technology of the lamp works perfectly.
For more details, please refer to the detailed photo documentation.
Dimensions (approx):
Height 33cm
Width shade 14.5 … cm
Cable length 165 cm
Ref 2102C0645